(Eve of 14 Ramadan)Six units with Surah al-Fatihah once and Surah al-Zalzalah (No. 99) thirty times.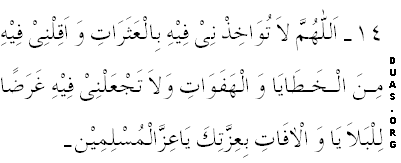 O Allah do not let indecision and confusion take hold of me, in this month,
nor errors and lapses get the better of me,
nor let misfortune and disaster make me its target, through Thy power
O He who makes powerful those who willingly submit to Him.
ALLAAHUMMA LAA TUW-AAKHID'NEE FEEHIL BIL-A'THARAAT
WA AQILNEE FEEHI MINAL KHATAAYAA WAL HAFAWAAT
WA LAA TAJ-A'LNEE FEEHI GHARAZ"AN LIL-BALAAYAA
WAL AAFAAT BI-I'ZZATIKA YAA I'ZZAL MUSLIMEEN