(Eve of 11 Ramadan) Two units with Surah al-Fatihah once and Surah al-Kawthar twenty times.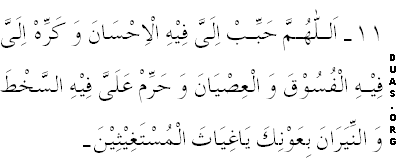 O Allah show love to me, in this month, by bestowing favours,
inspire me with aversion unto that which corrupts my morals or lures me to sins,
and through Thy help defend me by granting immunity from penalty and flames of the Fire,
O He who comes to the help of those who cry for help.
ALLAHUMMA H'ABBIB ILAYYA FEEHIL IH'SAAN WA KARRIH ILAYYA FEEHIL FUSOOQA
WAL I'S'YAAN WA H'ARRIM A'LAYYA FEEHIS SAKHAT'A
WAN NEERAANA BI-A'WNIKA
YAA GHIYAATHAL MUSTAGHEETHEEN.